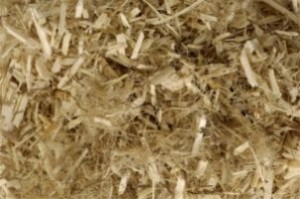 Shives with fibers for coating
Thermal insulation & acoustic insulation with hemp and lime
Components
Hemp aggregates. Inner part of the dry, defibered, calibrated, filtered plant. Particle dimensions go from 0,2 to 1,5 cm. Proportions are 80% of calibrated and filtered hurd, +20% of fibers (in volume).
---
Have a look on troweling movie
---
Use of C015 hemp and lime mortar
Insulated coating with first and second layer
Sheeting and formwork paneling
filling empty spaces
Advantages of C015 hemp and lime mortar
An allocated granulometry.
Great homogeneity of the mortar without adding sand.
Lime saving.
Structural improvement of mortar's.
Great adhesion on rough walls.
Strong mechanical structure with vertical troweling.
Possibility to hide technical shafts.
Impact resistant.
Thermal and acoustic comfort.
Durability of its breathing capacity.
Components : calibrated hemphurds 80%, fibers 20% (volume)
Granulometry : 2 to 15 mm
Packaging : Bag of 100 L – 10.5kg
Palletization : 30 bags / pallets (equivalent 3m3)
Aggregates density : 100 to 110 kg/m3
Thermal conductivity alone : 0.048 W/m.K
Storage : dry and isolated from the elements
---
Gallery
---
Invalid Displayed Gallery
---
Documents
---