100% first cold presser oil with hemp seeds from french biologic culture. naturally clarified, it can be used for indoor implementation on dry wood. It can be used for protecting porous substrates, and can be mixed with paints or others coloring agents.
Treatment of wood (furnitures and woodwork) indoor
highlight the veins of wood – it nourishes the wood deeply
---
Hemp oil implementation on wood
The support have to be porous, dry and free from grease and dust. For the first layer (in dry and far from éléments area) with turpentine oil (A good ratio is one volume of each). The second layer with only hemp oil Bioméga, remove the surplus then completely wiped away with a clean lint-free cloth . Multiply the layers until the surface is saturated. It is recommended to shell with a thin paper between each layer. For your furnitures (table for example) we strongly recommend a wax for the final layer.
Hemp oil food supply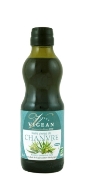 Please find Hemp oil BIOMEGA® food supply under the brand VIGEAN in independent biological food supply network and in Biocoop®
sold in 25 cl bottles.
If you're a professional in the food sector, please ask more information at l'huilerie VIGEAN.
For your information, before 2001, hemp oil was no more commercialized because of threats about indian hemp. We fought to reintegrate this product and we won.
---
Impregnation oil packaging : 3 liters container available at TECHNICHANVRE
oil food supply packaging : sold in 25 cl bottles (available cf. above)
---
Gallery
---
Invalid Displayed Gallery