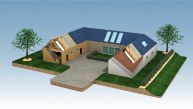 Felt 100% vegetable fibers
TECHNIFEUTRE is a feltparquet underlay fully made from vegetable fibers (75% hemp and 25% jute or 100% hemp). For the last centuries, vegetable fibers were used for their intrinsic qualities but today the use of synthetic fibers prevails. Why? Because of the price?…not really. After some improvements and research we propose a healthy felt underlay for flooring without any synthetic fibers nor binding material. Above or under the joists this product avoids sound transmissions between hard materials (wood for example). Also, it can be used on wooden framework in partitions with the same results. The underlay is produced in our needle punching department. We propose this product under the form of panels, rolls or collars.
The grammage (=grams per square meters) depending on the type of felt will determine the resistance of the product.
According to its use you can determine the type of felt.
---
According to its use, please find our advice
TECHNIFEUTRE 750
Underlying floor. (eg : under a laminate parquet)
TECHNIFEUTRE 750 in strips
acoustic insulation between hard materials (eg : between wooden joists and floor )
TECHNIFEUTRE 1000
Parquet

underlay

. (eg :

under

a

laminate

parquet)

TECHNIFEUTRE 1400
Insulation for residential yurts (easy set up- with or without disassembly)
TECHNIFEUTRE 1400+
a weft of juteis added for product sustainability, for nomadic yurts with disassembly.
Features

Grammage : 750 to 1400g/m² (+/-5%)

Thickness : 3 à 10 mm

Packaging :

Rolls of 25 or 50 ml

Width :1m ; 1.05m ; 2m or 2.10m (depends on grammage (refer to related factsheet)

Felts ≥ 1000g/m² could be used for floor coating and for mulching on slopes or gardens…
---
Gallery
---